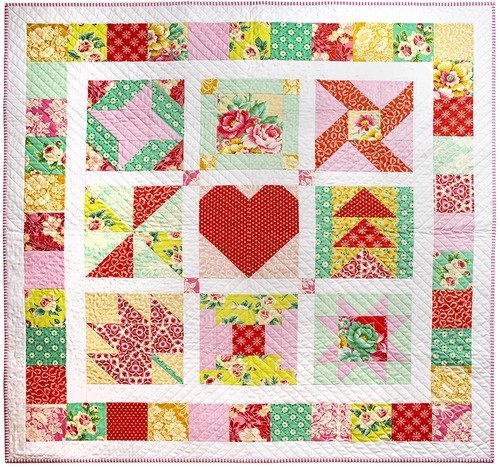 Class Description
We are excited that you're interested in becoming a quilter! Join us in the Embellish classroom to embark on your quilting journey as you construct a 60" x 60" sampler quilt. Each week during this 6-session class, you will learn the terminology, skills, and techniques to become a confident quilter. Quilting has evolved from your grandmother's time; tools and rulers have been developed to improve accuracy and speed. Breaks have been built into the class schedule to allow time for catch up and homework.
Six Week Class, Starting on Thursday Sep 22, 1 – 4
Six Week Class, Starting on Saturday Sep 24, 1 – 4
Please see our Class Guidelines and Policies before registering.
---
Supply List
Book: Jump Into Patchwork & Quilting (included with class registration)
Sewing machine (don't forget the foot pedal and power cord) and all your machine accessories, including manual
2 bobbins filled with neutral 100% cotton thread
1/4" sewing machine foot**
extra machine needles (size 80 Universal or Microtex)
24 1/2" x 6 1/2" ruler (

essential

) (Embellish sells Creative Grids Rulers with built in grippers)
12" x 6" ruler (optional)
12 ½" square ruler (

essential

)
rotary cutter (45 mm is the most popular size) (Is it time for a new blade?)
18" x 24" cutting mat (minimum size to efficiently cut a width of fabric)
Neutral colour 50 wt thread for piecing (100% cotton; we carry Wonderfil Konfetti)
long straight pins
small scissors or thread snips
fabric scissors (optional)
seam ripper
0.7 mm Frixion pen (heat erasable); other marking pens, pencils may be required depending on the colour of your fabric
Mary Ellen's Best Press (optional, but it is fantastic, and we offer a refill service at a discount)
Size 3/9 hand sewing needles (for hand sewing; needed for binding)
*2 pieces mat board/cardboard each 13.5" square (this will be used to create a portfolio to store blocks)
*4 large binder clips (dimensions: 2" with 1" capacity)


Fabric Requirements:
Fabric A (focus fabric): 3 fat quarters, or 0.75 m
Fabric B: 2 fat quarters, or 0.50 m
Fabric C: 2 fat quarters, or 0.50 m
Fabric D: 2 fat quarters, or 0.50 m
2 additonal fat quarters to add to add to A-D for patchwork border sashing and border fabric
Sashing = 1.50 m (recommend that this is chosen after blocks are complete)
Binding = 0.50 (can be chosen after quilt is complete to coordinate with quilt top and backing fabric)

The following not needed for the class, but needed to complete the quilt:
Backing = 3.70 m or 1.85 m wide backing fabric
Batting = 70" x 70" or twin size
Please label your class supplies

**If you are unable to obtain a ¼" foot for your machine we have affordable options for sale in the boutique to help you achieve accurate ¼" seams

All supplies and notions available at Embellish, unless otherwise noted.
We are happy to offer a 10% discount on class supplies, and a one time 20% discount on rulers, rotary cutters, and cutting mats; please remind us at the cash desk!
*Embellish does not stock sewing machines and sewing machine feet or accessories. Please contact your sewing machine dealer for accessories. We can help you source these specialty items if necessary.